Get the biggest My Funded Futures discount code today on challenges using these promo codes –
Black Friday Special
Expires on: 11/30/2023
25% OFF
Expires on: 11/30/2023
15% OFF
Expires on: 11/30/2023
Expired My Funded Futures promo code
My Funded Futures expired discount codes are…
50% OFF
Expired on: 09/30/2023
20% OFF
Expired on: 09/30/2023
Get My Funded Futures Prop Firm Promo Codes, Discount Codes, and Offers Without the Hassle
MyFundedFutures is an emerging futures prop firm and the demand has been skyrocketing ever since its launch. Thanks to the type of product the supply is almost infinite.
As always we bring you the most trusted collection of verified and tested promo and discount codes for My Funded Futures all across the internet. We dug into My Funded Futures' Twitter, Instagram, their website, and provided our email address for promos so we update this thread as the code goes live.
We try to update our codes as soon as possible though sometimes it takes 20-24 hours as well depending on how soon we find the code. We do all of this for you, yes just for you, so you can sit hassle-free and focus on your trade while we bring you the best offers at your fingertips.
About My Funded Futures –
My Funded Futures is the sister company of MyFundedFx launched by MattL. My Funded Futures was launched on the 21st of September 2023 and is a fairly new entry in the Futures Prop Firm space when compared to Topstep and Apex Trader Funding.
With the hype of being associated with the forex prop firm giant MyFundedFx, let us see How MyFundedFutures launch is gonna be……
Features of My Funded Futures –
Since My Funded Futures was launched recently, it is very difficult to find any information regarding the firm. Though we scraped My Funded Futures as well as MyFundedFx discord and have found some sneak peeks for you –
There will be three types of account sizes –

$50k Challenge
$100k Challenge
and, $150k Challenge

No Minimum Trading Days -Yes, you heard me right. Unlike other futures prop firm, MyFundedFutures do not have any minimum trading day requirements. You can finish the challenge in one day and you will still pass unless you break any rules.
EOD (End of Day) Drawdown – The good news is there is no Live Trailing Drawdown. Though the EOD Drawdown is not the best, it is still better than the Live Trailing Drawdown.
You might be wondering, What is an EOD (End of Day) Drawdown? An EOD drawdown is only trailed if you make a new high at the end of the session. For example, If you start with a $100k account with a 3% EOD drawdown i.e. the minimum balance will be $97,000.
On Day 1, you end the day with a 4% profit i.e. $104,000, though you have reached the high of $106,000
If we go with the EOD drawdown, then your drawdown of 3% will be calculated at $104,000 i.e. your minimum balance will be $100,880.
Though if we go with Live Trailing Drawdown then the 3% drawdown will be calculated at $106,000 i.e. your minimum balance will be $102,820. If you hit this at any point of time on the day, then you fail the challenge and have to restart.
Simple rules with no hidden metrics.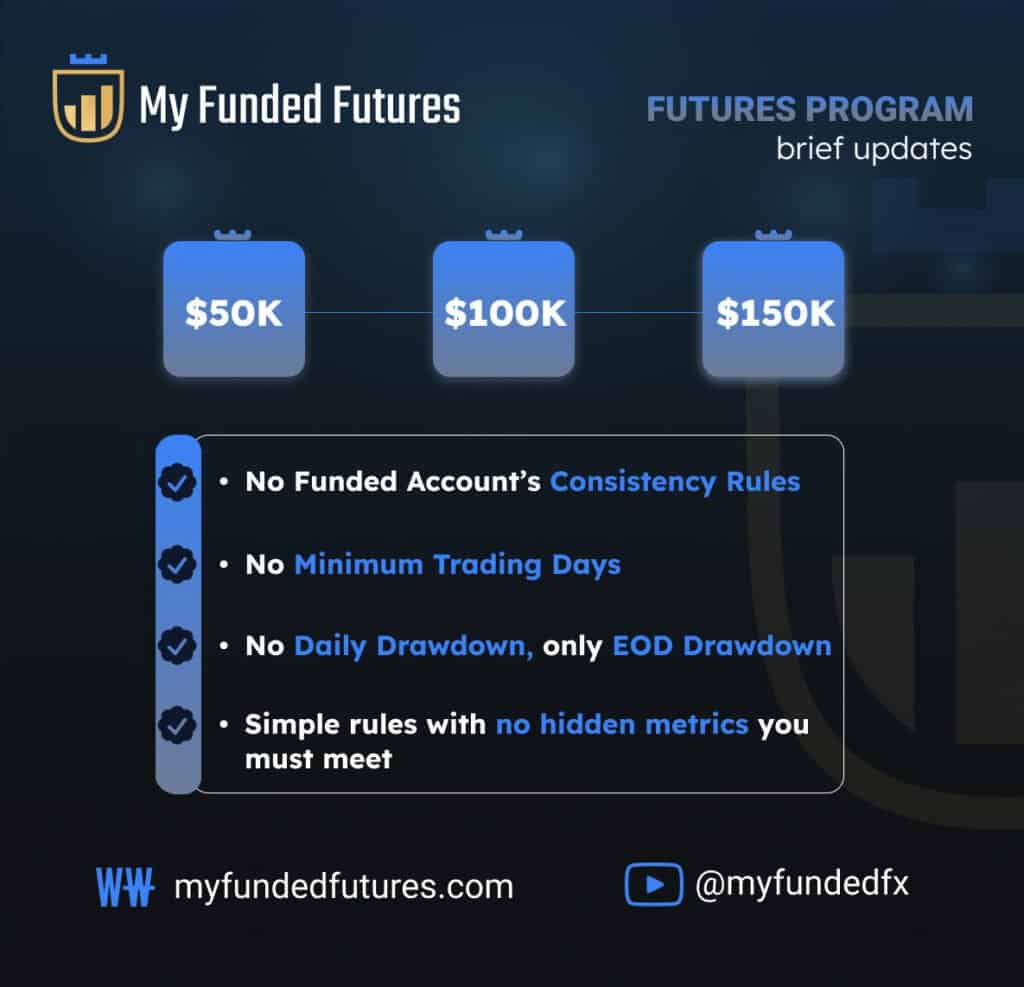 Which Platforms are Available for Trading?
My Funded Futures will be offering three of the most popular platforms out there in the industry –
Tradovate
NinjaTrader
TradingView
Conclusion
My Funded Futures shows massive potential even before the launch. Their socials have grown very fast. One of the biggest reasons for this growth is the fact that MattL has already launched a forex prop firm and now plans to replicate the success in the futures prop firm industry.
We brought you the biggest My Funded Futures codes as soon as possible and listed above. One of the biggest codes is –
Until then you can check the Discount codes for MyFundedFx.